Category: Florian
Gisteren vond in Oldenburg (Duitsland) Schlagercountdown – Das Grosse Premierenfest plaats, en was ook nog eens live op tv. Florian maakte de opening van Schlagercountdown, door in een kart de hal in te rijden en zo het podium op te racen :).
Voor het geval we het nog niet wisten, de Kelly Family maakte een comeback en vooral het eerste gedeelte van de show was gericht op die comeback, ik zelf vond het een iets te veel Kelly Family, maar goed, als je er van houd moet het leuk geweest zijn :). Voor de rest vond ik de show ook wat chaotisch verlopen.
Ook werd bekend gemaakt dat er weer een aantal leuke programma's op de planning staan, zo is er in augustus de Klubbb3 – Strand Party, vanaf Mallorca, en op 21 oktober 2017 is er wederom een Schlagerbooom in Dortmund!!
Gist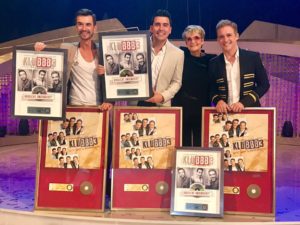 eren, tijdens Schlagercountdown – Das Große Premierenfest, kreeg Klubbb3, uit handen van Furstin Gloria von Turn und Taxis, goud én platina uitgereikt!
Platina voor hun eerste album Vorsicht Unsensiert en goud voor hun tweede album Jetzt Geht's Richtig Los!!
Ook werd bekend dat ze binnen nu en twee weken een videoclip gaan opnemen voor het lied Märchenprinzen!

Afgelopen zondag (19 maart) kreeg Florian een ster in het Gerry Weber Stadion in Halle (Westfalen, Duitsland)
Op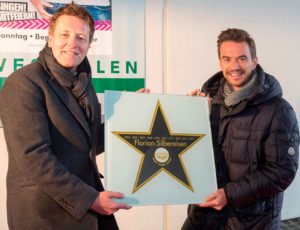 Facebook vertelde hij: Zehnmal durfte ich schon im Gerry Weber Stadion auftreten. Dafür wurde mir am Sonntag von Ralf Weber der "Walk of Fame"-Stern überreicht! Vielen Dank! Als Tennisfan dort in der Roger-Federer-Allee einen Stern zu bekommen, macht mich besonders stolz, denn Roger Federer ist mein persönliches Tennis-Vorbild!
Zaterdag 18 maart ben ik naar Keulen geweest om naar Das Grosse Schlagerfest – Die Party Des Jahres van Florian Silbereisen te gaan!
Eerst kwam Florian voor ons wat liedjes zingen en ons vermaken :).
Na een uur begon de show met DDC Tanzers, en kwam Florian in een sportoutfit de show openen. Daarna traden Voxxclub, Sarah Jane Scott (die mij inmiddels ook kent van instagram :o) en DJ Otzi op, alleen of in gezelschap met Florian zongen ze een aantal liedjes!
Na de pauze kwam Klubbb3 en stond de rest van de show in het teken van Klubbb3, met zo nu en dan de DDC Tanzer, en Sarah Jane Scott enzo er nog bij. We kregen ook nog een (bezweten) hand van Florian :p….
Het was een leuke avond 🙂 Florian kende me nog als zijn fan uit Nederland, en weet zelfs nog hoe ik heet, bijzonder.
Ik heb ook weer 4 of 5 foto's met Florian erbij 🙂
Ook heb ik nog even wat tijdschriften waar Florian op staat gekocht, aangezien ik toch in Keulen was, en ben ik even naar de Dom van Keulen geweest, want ik had nog tijd over. Ook heb ik 6 van die DB Mobil boekjes waar Florian in staat meegenomen, waarom heb ik er nu 6, is de vraag nu…. ja dat weet ik eigenlijk zelf geen eens :p.
Nu is het aftellen geblazen tot 6 mei, dan ga ik naar Oberhausen :)!
Afgelopen woensdag, 8 maart, is Das Grosse Schagerfest Die Party des Jahres van start gegaan in Hof/ Saale.
Ook is er nu meer duidelijk over hoe Florian zijn nieuwe tatoeage er nu werkelijk uit ziet, het is een soort van bos…. Waarschijnlijk een herinnering uit zijn jeugd naar zijn 'thuis'. Het is ook niet een beetje tatoeage, maar het vult opzich de hele binnenkant van zijn onder arm…. het is maar wat je mooi vind….
Ik ben nog druk bezig met de andere foto's :).