Jan Smit samen met Klubbb3 onoverwinnelijk in Duitsland
"Ergens boven zal hij wel glimlachend naar beneden kijken nu we met Klubbb3 succes hebben in Duitsland", aldus Jan Smit tijdens zijn 20-jubileum optreden in de HMH Amsterdam, voordat hij het nummer  '1 minuut met jou' ten gehore brengt. Toch wel een tikje emotioneel, niet alleen Jan, maar de hele HMH. Oprechte emotie, want Jaap Buys en Jan leerden elkaar kennen in 1996 en ze maakten samen prachtige dingen mee, veroverden Duitsland en Nederland.
Een klein stuk uit het interview over Klubbb3 uit het blad 1 Way Wind – The Magazine.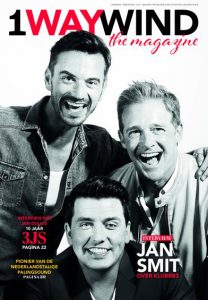 Hoe is Klubbb3 ontstaan?
Aan de bar een jaar of vijf geleden. Florian Silbereisen zijn show bestond tien jaar, hij was tien jaar aan het presenteren. Ik was uitgenodigd. Omdat ik al heel jong met Florian optrok als we in Duitsland waren, voelt het als we broers waren. Christoff De Bolle kende hij ook al een jaar of vijf, en ik ook al tien jaar. Ik kende ze allebei dus heel goed. We zaten op die avond aan de bar en haalden herinneringen op uit het verleden. En hoe later het werd, hoe aanhankelijker werd het. We hadden elkaar ook lang niet meer gezien. Ik opperde: laten we eens een liedje maken met zijn drieën, of een bandje beginnen. Gewoon één keer per jaar touren. En dan doe we dat twee maanden per jaar. Dan zien wel elkaar nog eens, nu had ik Florian zeker acht jaar niet gezien. Wel gesproken, maar niet gezien. Hier ging een jaar overheen tot we elkaar weer tijdens het 20-jarig feestje van Christoff zagen. Ik zei: Jongens, het aanbod geldt nog steeds hè. Nu zien we elkaar toevallig, hier moeten we wat mee doen. We hebben toen het liedje 'Drei Stimmen' (voorheen in 2002 met Piet Veerman en George Baker) opgenomen en live gespeeld op tv. Dut was een test. Het management van Florian wilde kijken wat er gebeurde als deze drie jongens dit deden. Het werd tenslotte heel erg goed ontvangen en ze hebben besloten er iets mee te doen.
In de tussentijd overleed Jaap. Jaap heeft dit vooral gepusht en heeft ze proberen te overtuigen dat dit een wereldidee was. Toen uiteindelijk de contracten waren getekend, de liedjes binnen kwamen en we aan het opnemen waren, overleed Jaap. Hij heeft dus niet gezien en gehoord. Hij wist wel dat het doorging. Het is ondergebracht bij Universal. We kregen vorige week platina voor de verkoop van 200.000 exemplaren van ons laatste album. Vijf maanden eerder dan vorig jaar platina. Dus hebben we nu binnen twee jaar 450.000 cd's verkocht.
Christoff is zeer succesvol in België en waar komt Florian vandaan?
Passau, Duitsland. Florian is eigenlijk accordeonist en is al vanaf zijn zesde op tv. Hij is dit jaar 14 jaar geleden begonnen met presenteren. Deed daar al zingen, met name de openingsliedjes en duetten met de één en ander. Het is de man van Helene Fischer. Helene Fischer is de succesvolste artieste van Duitsland. Verkoopt meer platen dan Adele in Duitsland. Een grote hit van haar is 'Atemlos'. Het is eigenlijk het glamourkoppel van Duitsland.
Je hebt altijd gezegd dat je voor je veertigste wilde stoppen, is dat nog steeds zo?
Tja, ik heb een probleem met Klubbb3. Als ik stop is dat niet zo erg, maar voor Klubbb3 wel. Florian zegt: "Over drie à vier jaar zitten we met Klubbb3 aan het dak, als jij dan stopt moeten wij ook stoppen. Dat kun je niet maken".
…Ik wil graag de beste zijn. Dus ik wil met Klubbb3 de beste in Duitsland worden. Die ECHO moet ik winnen.
De Echo is na de Emmy de meest prestigieuze muziekprijs ter wereld. Ik moet hem hebben.
Het hele magazine is te bestellen bij Palingsound.