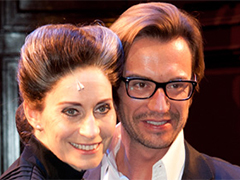 Ik heb een video gevonden van een stukje uit de musical Rebecca met onder andere de Nederlandse musicalzangeres Pia Douwes. Voor mij is het nog steeds niet helemaal duidelijk of Florian er een vaste rol in had, of dat het enkel te zien was in een van zijn shows, hij was in ieder geval wel aanwezig op de premiere op 8 december 2011, waar ook, zo ontdekte ik vandaag, onze eigen Nederlandse Joop van de Ende aanwezig was.
Hier onder de video van Florian samen met Pia Douwes en Lucy Scherer in Das Frühlingsfest der Überraschungen op 17 maart 2012. (klik op de link 'Rebecca'.)
Overigens heb ik na enige tijd zoeken ook nog foto's gevonden die ik zelf nog nooit eerder heb gezien. Deze heb ik aan de photo gallery toegevoegd.
MISCELLANEOUS > RANDOM PHOTOS